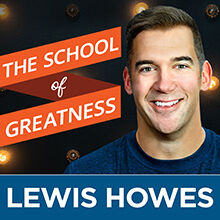 SiriusXM has signed a deal with The School of Greatness, which provides SiriusXM exclusive rights to distribution and ad sales for the podcast hosted by Lewis Howes. Since its inception in 2013, The School of Greatness has been downloaded over 500 million times, and regularly charts as one of the top Health & Fitness shows on Apple Podcasts.
Each week, The School of Greatness shares inspiring interviews from the most successful people on the planet, including leaders in business, entertainment, sports, science, health, and literature. Its goal is to inspire listeners to unlock their inner greatness and live their best life.
"Here at Greatness Media, we're on a mission to make a positive impact on 100 million lives every single week," said Howes in a statement. "The way we'll get to that milestone is through strategic collaboration with inspiring brands and individuals that align with our core values. We're confident teaming up with an organization as prolific and respected as SiriusXM will support us in achieving our mission." Howes is a best-selling author, two-sport All-American athlete, keynote speaker, and entrepreneur.
The new multi-year agreement gives SXM Media, the combined advertising sales group of Sirius XM Holdings, exclusive global ad sales rights to The School of Greatness podcast. The agreement also calls for Stitcher to distribute the show across all podcast platforms. The School of Greatness will continue to be available on all major podcast listening platforms.
"Like so many others, we're a fan of the invaluable insight and unique interview style that Lewis brings to each episode of The School of Greatness podcast," said Daniel Osit, Chief Operating Officer at Stitcher. "We're very excited to begin working with him and his team to help lift this already successful show to new heights." 
UTA represents The School of Greatness podcast and brokered the deal.