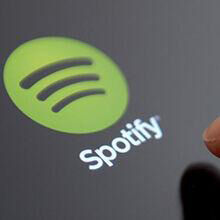 Spotify CFO Paul Vogel says the company has come to the realization this year that it has not been transparent enough with investors about the "drag" that podcasting has been on the streaming music service's business. So during an appearance at the Evercore ISI Media Conference, he did not shy away from the fact that podcasting remains a money-loser for Spotify, and is likely to remain that way in the near-term. 
"We've had this drag from podcasting," Vogel said, but told investors that they expect that to "flip to profitable over the next 12 to 24 months." After that, he said, podcast is expected to drive profit margins for the company higher. "We actually believe that some of the newer verticals that we will launch, podcasting, audiobooks and others, should have structurally higher gross margins than the music business, which will help overall gross margins over time," said Vogel.
Yet the multimillion dollar deals that Spotify has spent in podcasts with talent including Joe Rogan, Alexandra Cooper, and Megan Markle are paying dividends in other ways in the meantime. 
"It helps engagement. It helps retention. It helps user growth," said Vogel. "We've seen when people engage with both music and podcasting, they're more likely to retain at higher rates, they're more engaged, and they spend more time on the service — all the things that keep them coming back. So that's a big positive."
Spotify executives also believe that the company will benefit from a growing podcast business overall. Vogel said that the industry is twice as large as people thought it would be in 2022, and he thinks Spotify deserves credit for making that happen. 
"We innovated in podcasting and made it more enticing and more enjoyable for both heavy podcast users as well as casual podcast users," he said. "Now the podcast business is twice as big as people thought it would be and growing faster than anybody thought it would be. And now you've got more people wanting to play in the same game that we're in because of what we've been able to do." Vogel said Spotify believes it can do the same with audiobooks. Today, the book market is worth $140 billion with audiobooks just a small fraction of that, he noted. 
During his presentation at the investor conference, Vogel said economic uncertainty has yet to have much of an impact on Spotify. 
"We're fully aware of what's going on globally. But luckily for us, it hasn't impacted our numbers at all. So we've had user growth. We've had subscriber growth," he said. "Obviously, advertising is a bit up and down right now. We saw the last couple of weeks of Q2 as being definitely weaker than the majority of the Q2 performance. And we've seen sort of that kind of up and down trend through Q3. But in general, we feel good about where the business was trending coming out of Q2 and we feel really good about where the business is."