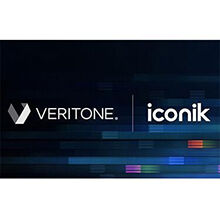 In an alliance intended to make it easier for broadcasters, podcasters, and other content creators to license their content to third parties, Veritone has formed a partnership with iconik, a cloud-based media management platform. The deal integrates Veritone Digital Media Hub, a content licensing technology app, with iconik's platform, allowing media outlets to manage, share and license their content.
The companies say the hook-up will speed the path from media creation to management to monetization. 
Iconik, which was acquired by Backlight, a global media technology holding company in April, organizes media securely from any storage and offers media collaboration. It is now connected with Veritone Digital Media Hub, which enables licensing of digital content to the outside world. The goal of the partnership, the companies say, is to give media organizations a way to easily offer digital content to outside parties for licensing, as well as to manage and share content both internally and externally—and monetize that content with eCommerce capabilities.
"This adds a new monetization piece to our media asset management solution that will be critical in uncertain times," iconik CEO Parham Azimi said in a press release. "Now, customers of both iconik and Veritone can take advantage of licensing their assets straight from iconik with Veritone Digital Media Hub." 
Using artificial intelligence, Veritone Digital Media Hub enables customers to monetize valuable digital content that may have otherwise gone unused. It also allows users to set up their own digital storefront while offering sorting, tagging, and segmenting capabilities for all types of digital content.
In addition to allowing users to share files from any storage, iconik's cloud-based system lets users collaborate on video and to enrich media with AI, allowing higher searchability functionality. 
"Media and entertainment companies have long struggled to monetize all of their content, from archival to live event footage," said Veritone President Ryan Steelberg, "Now, with Veritone Digital Media Hub's robust, AI-powered commercialization features, organizations using iconik's media management solution will be able to quickly and efficiently set up their own digital marketplaces and speed the path to monetization." 
The news comes in what has been a busy period for Veritone. On Wednesday it announced enhancements to Veritone Voice, the artificial intelligence platform it created to produce content with synthetic voices. In late August it hired John Murphy, a founding partner and President of Audacy's Cadence13, to run its recently launched Veritone Voice Network which enables hosts to create a custom and enterprise-grade synthetic voice model.